What do our customers say?
Feedback from some of our customers Mick Morton
September 2022
Moulton, Northampton
Brilliant once again. Many thanks to Gary and the team. Especially Richard. Professional by name and professional with their work. Many thanks once again. Mick and Pauline morton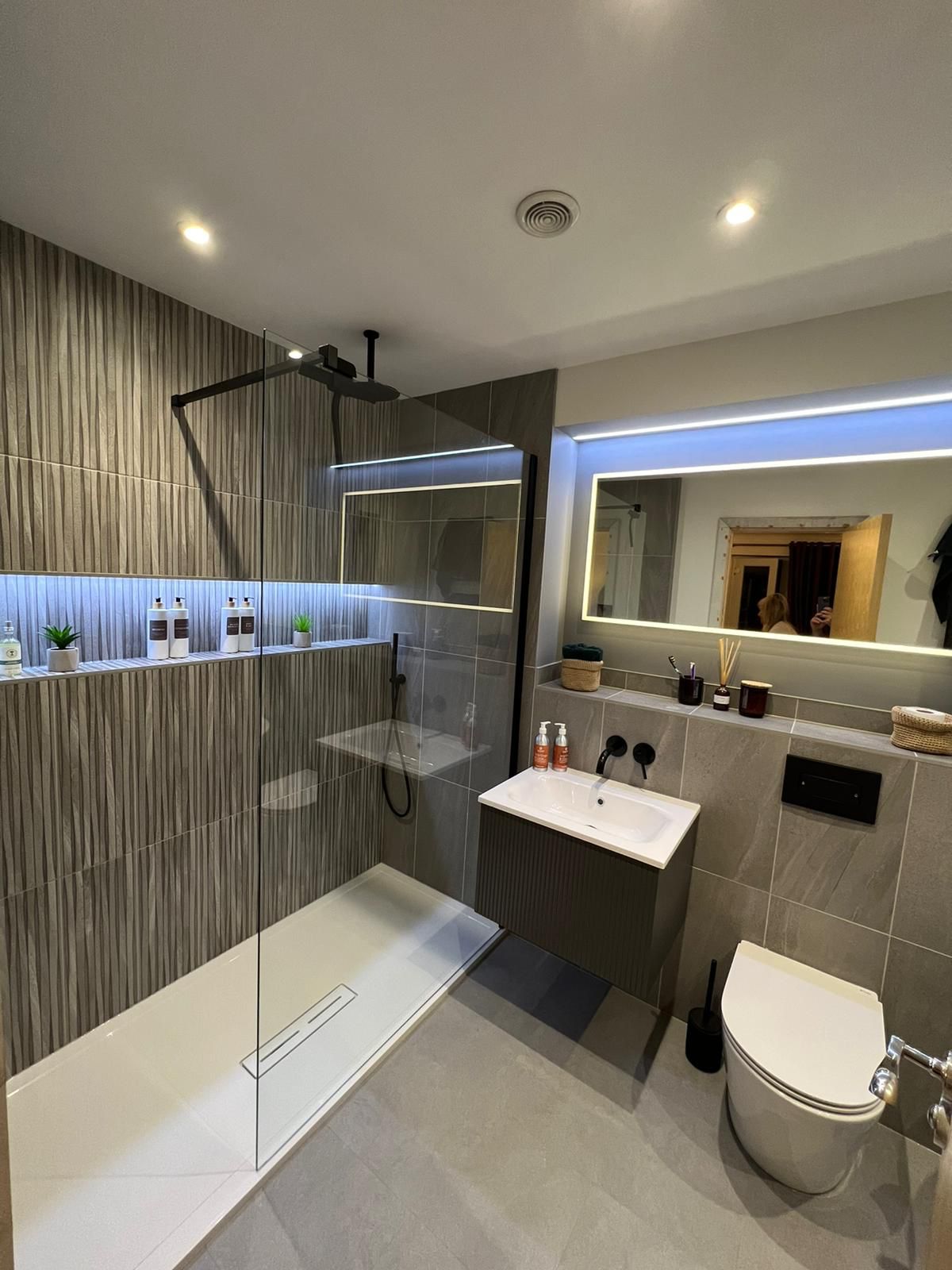 Laura Arnold
After really struggling finding anyone with any enthusiasm or advice on remodelling and refitting my en-suite I dropped into Professional Finish and found both enthusiasm and great professional advice ! They are all so friendly and nothing is a problem to these guys! They designed and installed my bathroom completely stripping it to the bones moving and installing a new entrance door to it and installing all the extra lighting and modern touches we had in our mind. They will let you guide but also will advice and research any ideas you have for your dream Pinterest bathroom. The fitters were so respectful to our property u hardly noticed they were there. A great team with tonnes of skill and experience for a stress and worry free project! I would highly recommend them if you love your home don't go anywhere else ! Elaine Tomkins
November 2022
Northampton
Choosing a new bathroom from scratch can be overwhelming. PF uses favoured brands but choices within the brands. The showroom at Moulton Park is well displayed so planning and choosing installations is much easier. The finish IS professional, and the fitters left the room tidy at the end of each day. We are pleased with our new bathroom. Simon B
February 2022
Northampton
Thank you to Gary and the team at Professional Finish for providing a fantastic service. Gary was patient understanding and nothing was to much trouble. The showroom was well stocked but not over baring with live "working" showers and kitchens which made choosing a far simpler process than I expected. Sean Goodhart
February 2022
Brixworth, Northampton
A good design team with access to great quality material at sensible prices. No stress with making changes to get the design (and price) just right. Installation with care, tidy house at the end of every day, with a truly professional finish in the end result.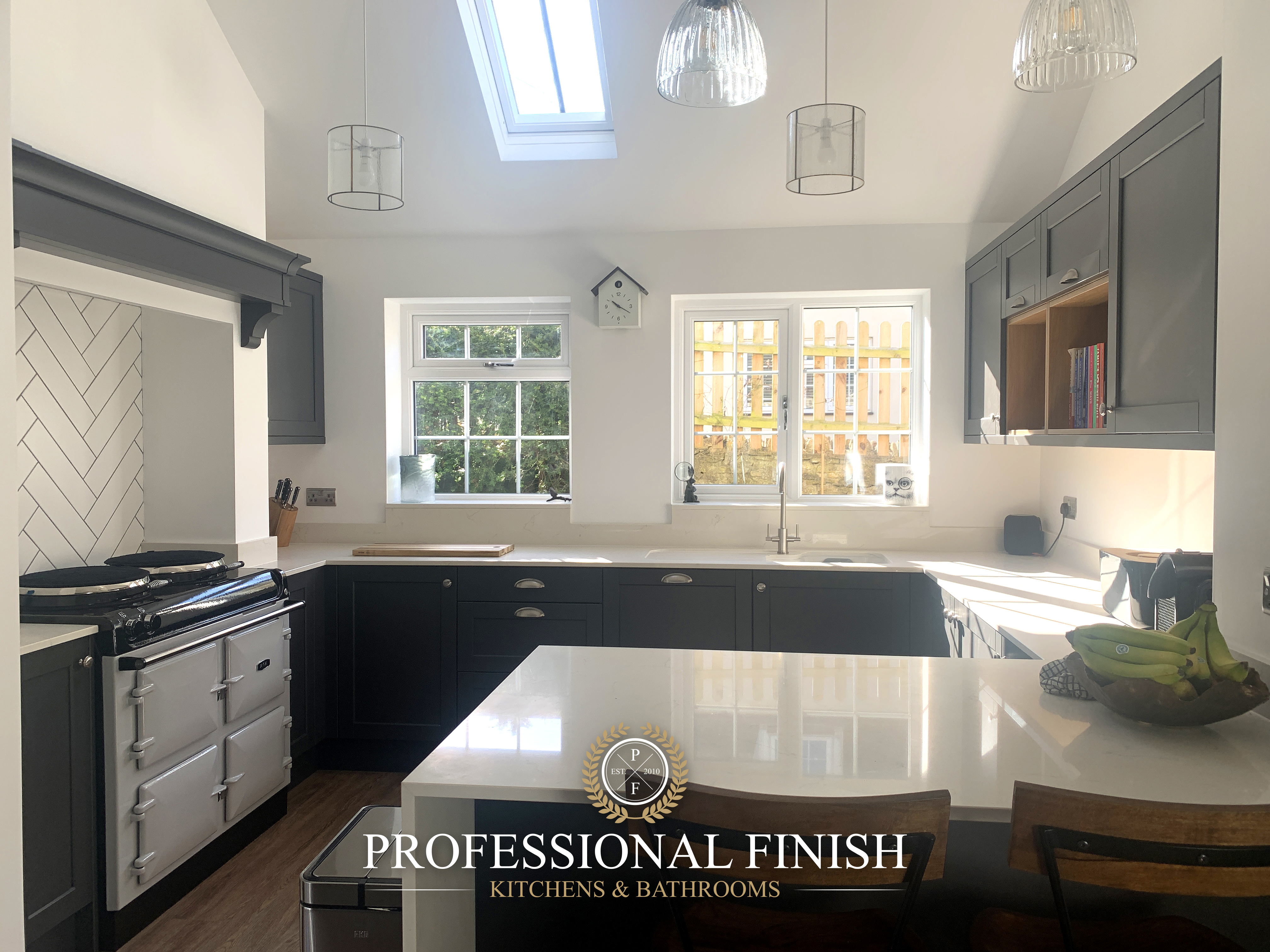 John Marrs
Right from the start, we were impressed by their keenness to give us our dream kitchen. They project managed the whole renovation including external workmen, meaning our input was minimal. The team arrived on time each day, worked hard, cleaned everything up after themselves every night and wore masks at all times making social distancing easier. The quality of work was excellent, and any queries were answered very quickly. We are thrilled with the final product and have nothing but praise for Professional Finish. We would highly recommend them. Hayley Gordge
We recently used Professional Finish to refurbish our main bathroom and downstairs toilet.
We had an initial meeting at home with Gary to talk through ideas and then two visits to the new showroom in Moulton Park where we finalised the exact suite and furniture we wanted. We were allowed to take samples home and make our decision in our own time. We changed the specification of our quote a number of times, but it was never any trouble for Grant and Gary and they supplied full 3D drawings of what our new suites would look like.
When it came to the installation, Ben and Rhys were punctual, polite, tidy but most of all did a really impressive job. They kept us up to date throughout the whole installation, double checking small details. Ben even moved the position of the lights after he'd fitted them because we weren't happy with the position. The entire project was completed on schedule and exactly as specified. We are so happy with the work that Professional Finish did that we wouldn't hesitate in using them again for future work. Suzanne Webb
Absolutely thrilled with our new bedroom and en-suite! Can not recommend Professional Finish enough. They really live up to their name. Thank you Richard for your professionalism even when things weren't easy! Thanks to Rhys too. Lovely hard working team. Many many thanks. Hope to see you again soon. Mark Manning
Did our kitchen and bathroom. Brilliant job from start to finish. Can't recommend them highly enough. Thank you. Lewis Perrin
The quality of work is fantastic, and just as important Ben was a perfect professional. Clean and tidy every day and always on time. Jo Birch-Chapple
Professional Finish are like no other company I have ever worked with... they are, are professional and are almost obsessional about providing a perfect finish. They team are courteous, friendly and really enjoy their job and under Gary's leadership, you really cannot beat PF in Northamptonshire. In my view you can't afford not to use Professional Finish