So you've chosen your kitchen door style, appliances, flooring and tiling and you are on the way to having all the elements to make a stunning new kitchen. However it's sometimes the small unseen elements in a kitchen that can take a kitchen from good to great. It's all the small elements that add a little something to either make your life easier in some way or make the kitchen have all those finishing touches.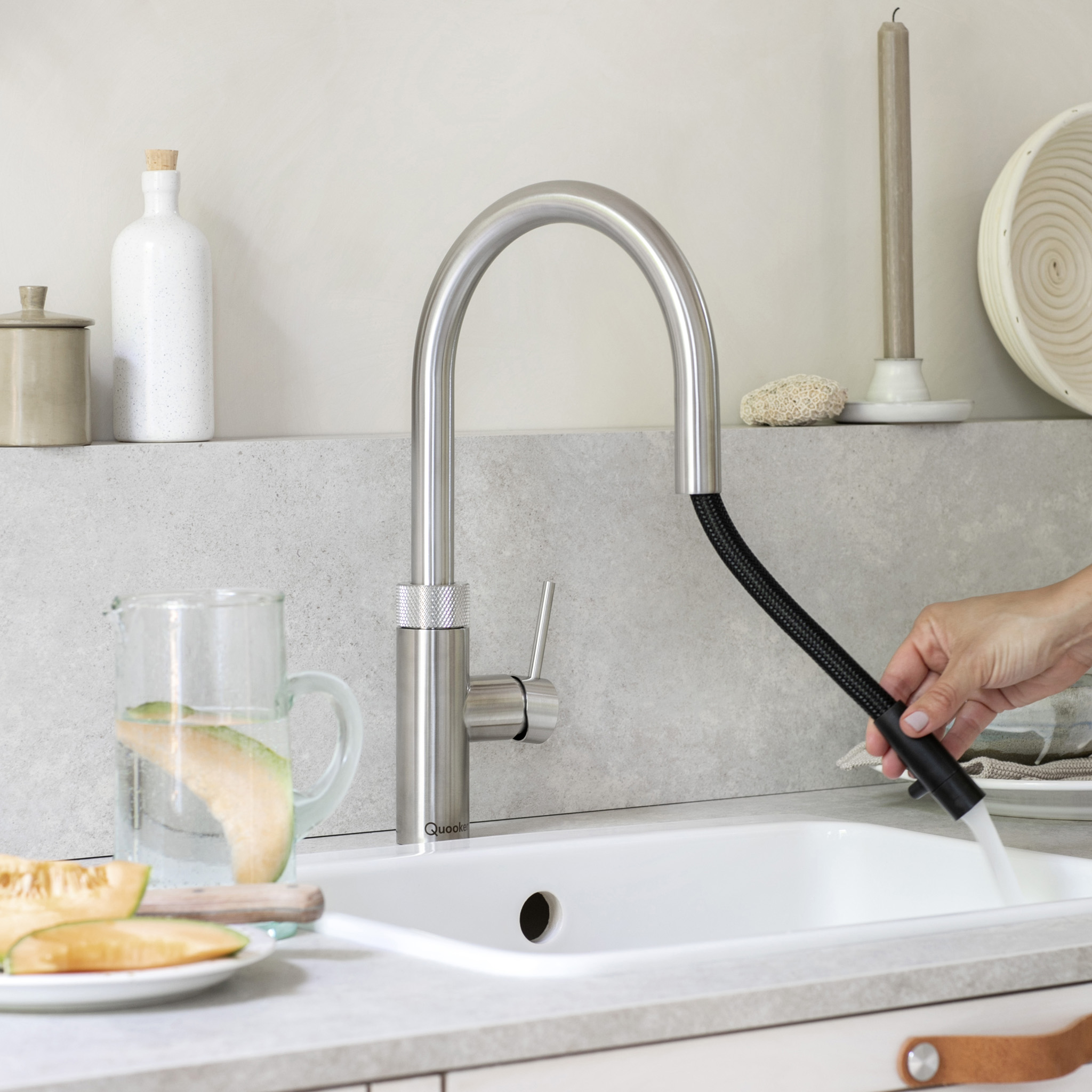 Quooker Boiling Water Taps
Add the Qube for sparkling and chilled water.
A Quooker consists of a kitchen tap on your worktop and a tank in your kitchen cupboard. There are various options available. For convenience, go for a 3-in-1 tap or a separate boiling-water tap. The 3-in-1 taps have all the functionality of a normal household kitchen tap, with also filtered water and of course instant boiling water as the other functions. This gives you all the advantages of a standard tap but the ability to ditch the kettle off the worktop and save space. Quooker also give you the option for a separate boiling-water tap which can sit alongside your current kitchen tap.
The latest release from Quooker is the Cube. The Cube can be installed at the bottom of the kitchen cabinet next to the Quooker tank. It includes two filters that make the water just as pure as the bottled water you buy in the shop. The CUBE is attached to a CO2 cylinder that gives you 60 litres of sparkling water from your Quooker tap.
For full details about Quooker please visit: Quooker Website
Kesseböhmer Storage Solutions
Kidney pull-outs through to larder storage.
Make your kitchen work for you better by adding in corner solutions, larder pull-outs and other unique and clever products that just make life that bit easier. Kesseböhmer have been at the forefront of these storage solutions for many years and they have a wide range of solutions for every type of cabinet.
Corner units have gained a firm place in the kitchen planner's toolbox. Carousel systems are ideal for storing pots, pans and mixers. Some attractive new systems have been developed as alternatives to the classic storage carousel. LeMans solutions are one of the most popular type of corner unit pull-out with the familiar 'kidney' shape shelves that pull fully out independently of each other meaning you can reach everything easily. Alternatively magic corners can provide a similar solution if you prefer.
Today, tall cabinets, often planned as a block, with appliances integrated at eye-level and storage space for groceries, have gained an important place in kitchen planning – and rightly so! Gain access to all your cupboard space and access all the products at the back with ease. No more reaching over the top of other items in the way or having to remove half the cupboard to find something.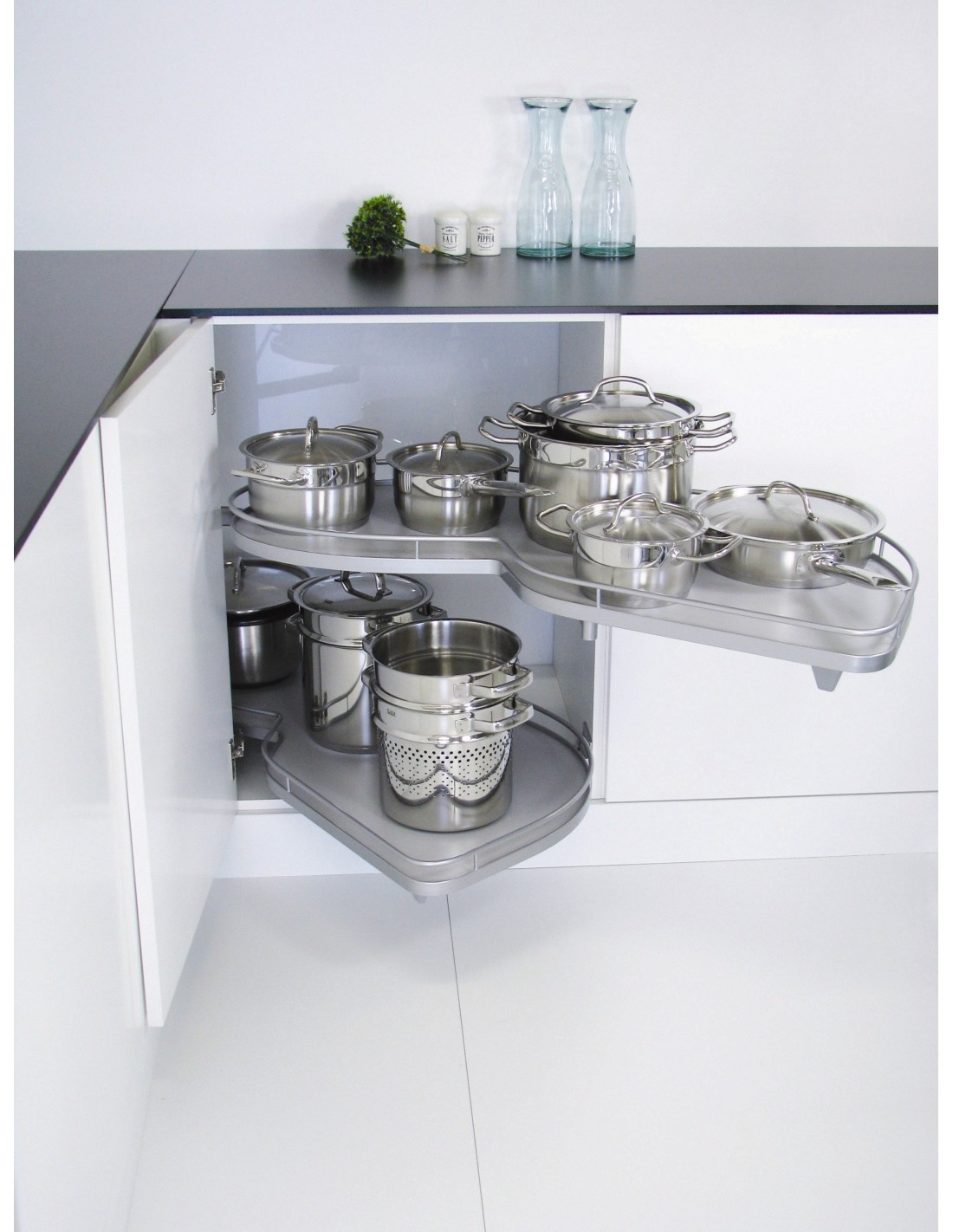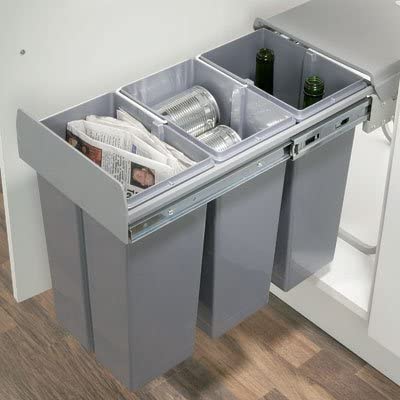 Internal Bin Pull-Outs
Integrate your waste into your kitchen units.
An integrated internal bin is a nice way to tidy up space in your kitchen. Keep your kitchen looking modern and sleek by hiding what essentially is usually an eye-sore inside one of your spare units. There is a lot of choice when it comes to internal bins in terms of both manufacturers, layouts and sizes. They are mainly designed to fit units 300mm - 600mm and often include more than one bin to allow for recycling waste to go in another or food depending what you are separating.
Drawer Accessories
Organise the contents of your drawers.
Keep your kitchen drawers tidy by choosing an array of useful items that will help you keep items separated, organised and make it much easier to find things. Everyone knows how messy drawers can get over time if nothing is sectioned, with cutlery piled on top of utensils and other items, it makes using the kitchen a real chore.
Internal fitted cutlery trays fit your size drawers perfectly, maximising the usable space and keeping items sectioned off so you can easily find them when you need. These are especially useful if you have large drawers in your kitchen.
Pan drawers can be tidied up using pe g boards, plate divides, spice racks and more useful items all aimed at keeping them tidy for when you need something. Full divides are useful for keeping each pan in its own place.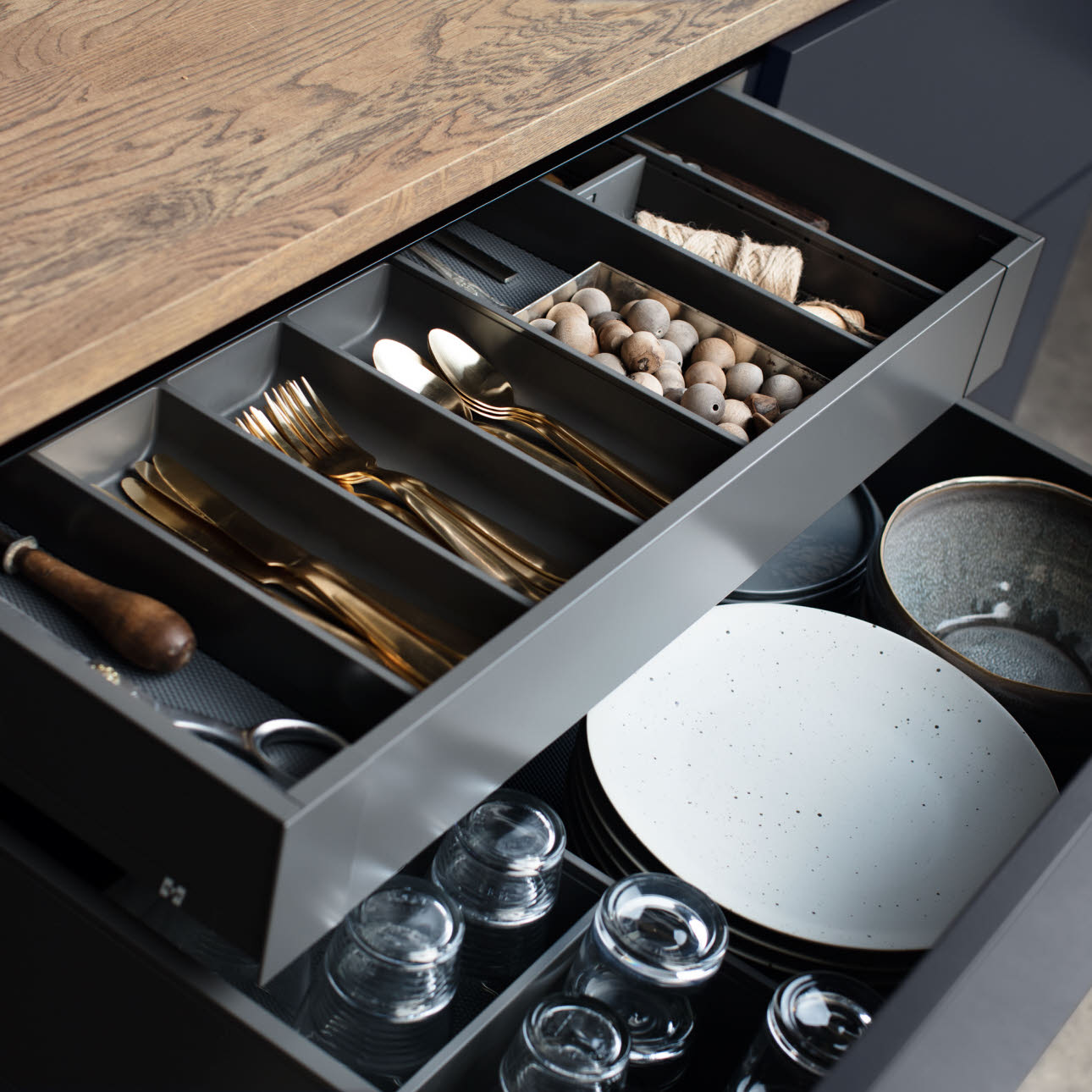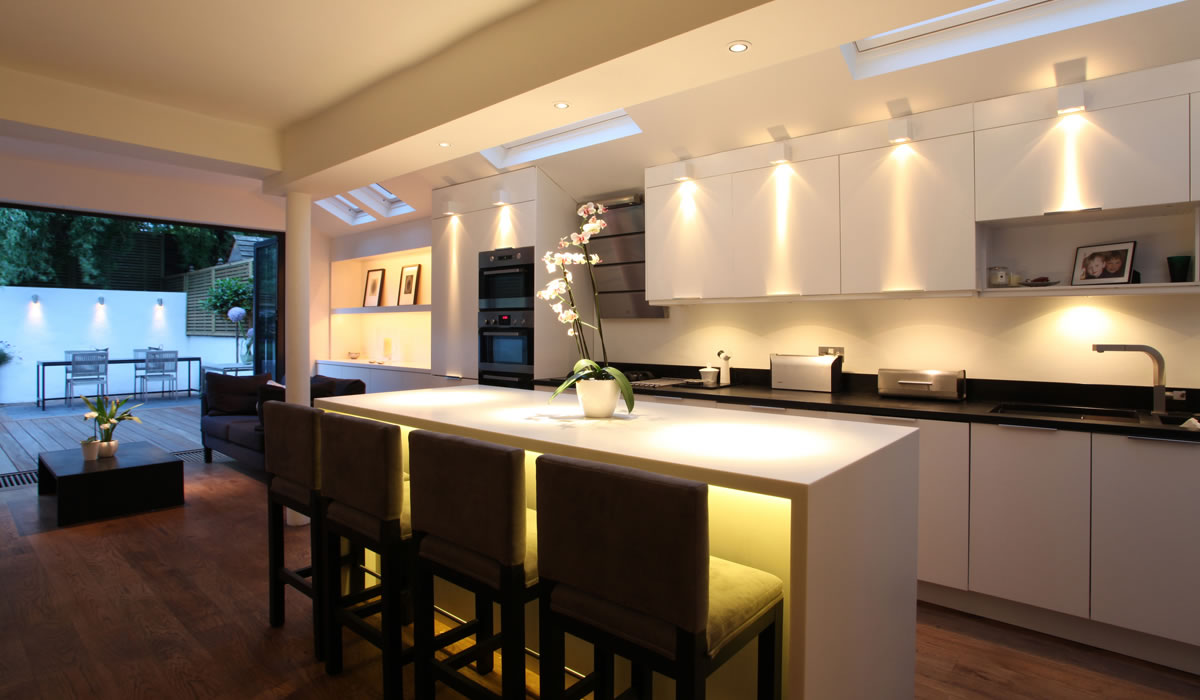 Integrated Lighting
Lighting can totally transform your kitchen.
Getting the lighting right in your kitchen can be hugely important as it creates more than just light, it creates atmosphere and ambience. The use of pendant lighting over islands, under-cabinet lighting and spotlights in glass fronted units all add character and style to the overall kitchen design.
Under-cabinet lighting can be highly useful and functional while at the same time adding atmosphere at night. The use of different lighting zones allow you to separate the ceiling lighting with other sections of the room, meaning a softer calmer feel when entertaining or just generally at night.
Other useful lighting areas are under-worktop, internal drawers and cabinet lighting helping to see contents, pendant lighting over cooking zones or seating areas and more. All of these are important to give your kitchen the overall feel that you are looking for.